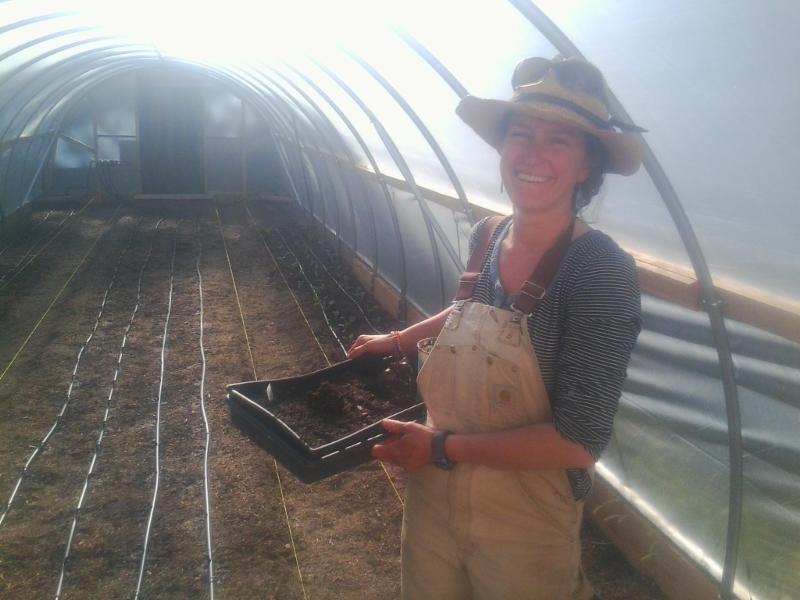 Katherine is thrilled to bring her background in food justice, agroecology, and sustainable community development to Petaluma Bounty as the new Bounty Farm Manger! She is excited to be part of the dynamic and committed Bounty team working together to grow beautiful, fresh, healthy food.
Katherine has managed greenhouses and plant production and worked on farms and native plant nurseries in northern Arizona, mid-coast Maine, and southern Oregon. She has developed and taught classes and workshops in place-based education and the environmental humanities to adults in the Southwest, and middle schoolers in Honduras.
Katherine's earliest garden memories are of being dispatched by her Italian-American mother on Long Island, New York to harvest basil for that night's pasta dinner. But her first true introduction to agrarianism and a land-based culture came as an Agriculture and Rural Community Development Outreach Volunteer with the Peace Corps in a rural mountain village in Morocco. Living in a valley with flood-irrigated fields fed by hand dug irrigation channels supporting a wide variety of subsistence crops from lentils and wheat to fruit trees and vegetables to grazing herd animals for milk and meat, she learned what it meant to truly live and eat from a place. She is happy now to bring this inspiration to the vibrant small farm culture of Sonoma County.
Additional interests include learning about native and medicinal plants, and hiking and napping in beautiful, wild places. Katherine has a BA in English and Environmental Studies from Colby College, and a Master's degree in Sustainable Communities with an emphasis on place-based education from Northern Arizona University.